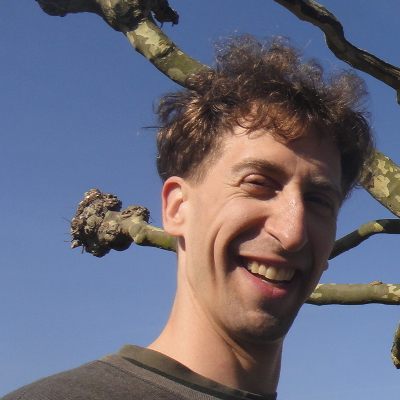 Arno Klein
Director of the MATTER Lab
Joseph Healey Scholar
Research Scientist, Center for the Developing Brain
arno@childmind.org
917-512-5627
code:

Blog Posts
---
Past Presentations
Tuesday, November 20, 2018 5:30 pm (UTC +0530)

Innovative Technologies for Mental Health

Sangath, New Delhi, Delhi, India

Thursday, April 5, 2018 11:00 am (UTC -0700)

On-person vs in-person mental health assessment and intervention

Imaging Genetics Center, Marina Del Rey, California, USA

---
I direct the MATTER lab's research and development of devices, apps, and informatics and analysis tools. I am passionate about creating tools to help people and to help us better understand the human mind. All the work that I do adheres to the principles of open science, where researchers openly share data, code, resources and ideas.
Previous mobile health work
Prior to joining the Child Mind Institute, I was the scientific lead on the mPower Parkinson mobile health research study launched by Apple in partnership with Sage Bionetworks. The mPower study is an example of how mobile devices can vastly scale up open medical research, in this case by tracking symptoms of Parkinson disease from iPhone sensors in thousands of participants. In the course of this work, I created an open source software pipeline for analyzing sensor data and designed interactive visualizations to present results to patients, clinicians and researchers.
Brain image analysis
I am the main developer of the open source Mindboggle software for automated brain feature extraction, labeling and shape analysis. Using the Mindboggle software, I helped to complete the largest brain shape study ever conducted, and published some of the largest brain image analysis evaluation studies ever performed. For this research program, I oversaw the construction of a new brain labeling protocol and the world's largest manually labeled set of brain images.
Publications
Experience
Director of Neuroimaging (2014-2016)
Principal Scientist of Systems Biology
Sage Bionetworks, Seattle, WA
Research Assistant Professor (2012-2013)
Department of Psychiatry and Behavioral Science
State University of New York at Stony Brook
Assistant Professor of Clinical Neurobiology (2007-2012)
Division of Molecular Imaging and Neuropathology, Department of Psychiatry
New York State Psychiatric Institute
Columbia University
Information Synthesis Theorist and Program Analyst (2004-2007)
Parsons Institute for Information Mapping
The New School, NY
Education
PhD (2004), Neuroscience
Weill Medical College, Cornell University, NY

Functional MRI Laboratory, Memorial Sloan-Kettering Cancer Center
Functional MRI Research Center, Columbia University

Computation and Neural Systems Program
California Institute of Technology
MS (1996), Media Arts and Sciences, Spatial Imaging Group
MIT Media Laboratory, Massachusetts Institute of Technology
BS (1993), Biopsychology, Perception and Cognition Studies
University of Michigan (Ann Arbor)