Bibliometric analysis
of open data literature
---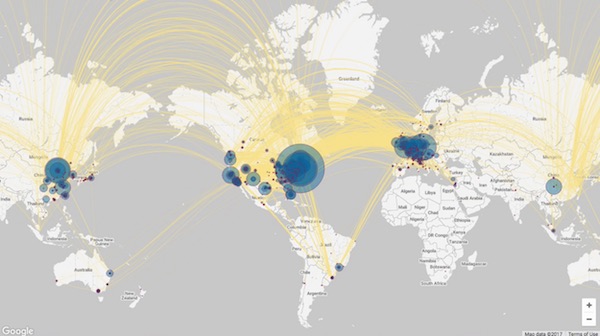 To demonstrate the benefits of open data sharing and open scientific practices generally, we created software as part of a semi-automated strategy for quantifying the use of open data in the scientific literature. The interactive figure linked above shows coauthorship of publications using FCP/INDI data indexed by PubMed. These figures are all as of March 22, 2017.
Code

Biblio_Reader
---
Interactive Maps
Below are interactive maps showing the number of authors from each location that had an affiliation listed in a publication that used FCP/INDI data and was indexed in PubMed as of March 22, 2017.
FCP/INDI usage PubMed Authorship by Country (as of March 22, 2017)
The United States is an extreme outlier on the high end. Below, we look separately at the U.S. divided by States and the rest of the world.
FCP/INDI usage PubMed Authorship by US State and by Country excluding United States (as of March 22, 2017)
Publications citing FCP/INDI data (as of March 22, 2017)