The Thermo wearable
for position tracking
---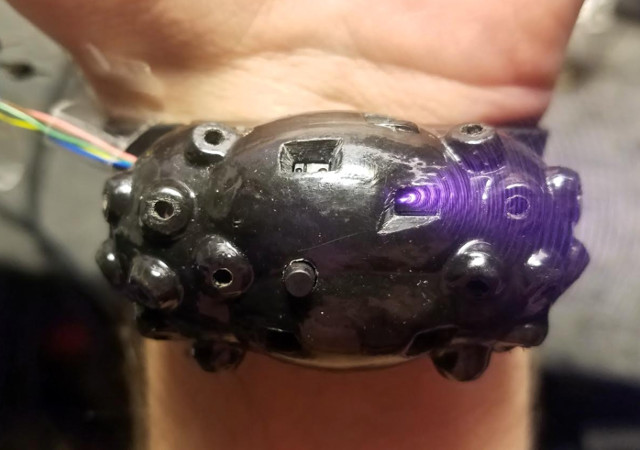 A generalization of the Tingle, the Thermo uses thermal sensors to detect its position relative to your body. This novel approach to position tracking addresses the longstanding problem of "dead reckoning" and is the subject of a recent patent application. We are currently refining our latest prototype.
---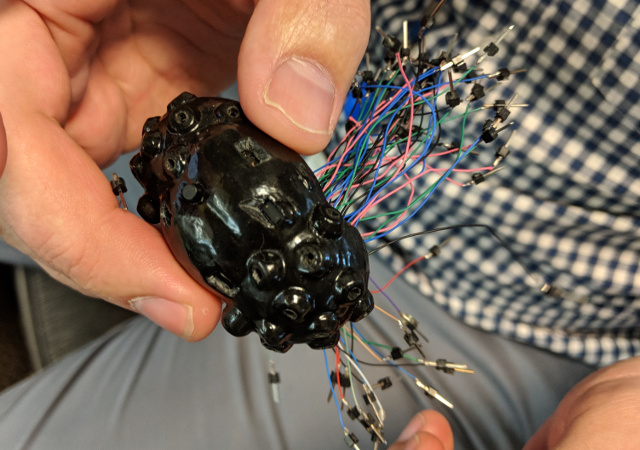 The Thermo wearable uses thermal sensors to track its position relative to the body. This innovative standalone approach to position tracking without cameras has the potential to highly increase the accuracy of measuring movement in real time. The device is also lightweight, non-intrusive and self contained, making it ideal for integrating into augmented or virtual reality systems. See the description of the Tingle device, which also serves to track position of the hand with respect to the head and torso, but for a more narrow application (monitoring of body-focused repetitive behaviors).
The above 3D model represents the top half of the Thermo device enclosure. By 3D printing the enclosure, we are able to precisely orient the sensors mounted inside. The holes in the model correspond to individual sensors - 26 in total. The device also makes use of an accelerometer mounted on the main PCB (circuit board) in the bottom half of the enclosure.