Taction!
exposure therapy app
---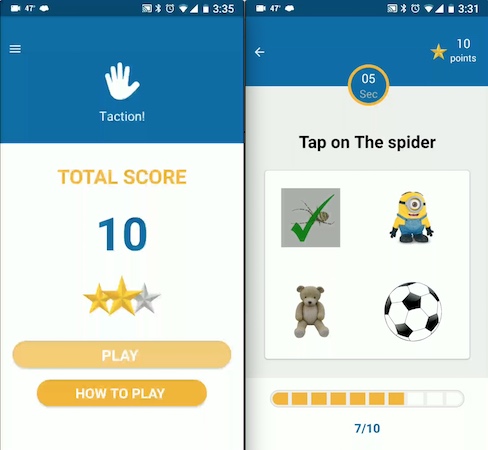 Touch only the images you don't want to look at to gain points in this simple exposure therapy game! You can add your own images or choose existing folders of images provided by a therapist, pair the app with a child's app to monitor the child's progress, and add prizes to motivate the player to win more points. We are currently preparing this prototype for a clinical study.
---
The Taction mobile app is a simple exposure therapy game for children who may be suffering from Obsessive Compulsive Disorder (OCD) and/or anxiety-related issues. Designed at the Child Mind Institute as a collaboration between our research team and clinical experts, the app rewards users for tapping on images that heighten their anxiety, potentially helping them progress in their treatment between exposure therapy sessions. The images can be initially selected by a child's parents or therapist, tailoring the app to the child's individual needs while also allowing families to become more directly involved in their child's progress. Taction has the potential to significantly improve researchers' and clinicians' understanding of OCD and anxiety disorders through data collection that users can easily integrate into their daily lives.

We are creating a suite of mobile apps in partnership with clinical colleagues at the Child Mind Institute (CMI) and Child Mind Medical Practice (CMMP), who are interested in rigorously evaluating such apps to extend therapy to the home. The apps are digital renditions of therapies conducted at the CMMP. Since there are many barriers to coming to the clinic (time, distance, stigma, etc.), an app could provide a means of monitoring behaviors associated with, for example, OCD, between clinic visits, such as reassurance seeking, checking and tapping. Web browser-based data visualizations of app data will enable clinical researchers to understand the timing, duration, and frequency of these behaviors in a convenient, non-intrusive manner.