mhealthx software pipeline
for feature analysis
---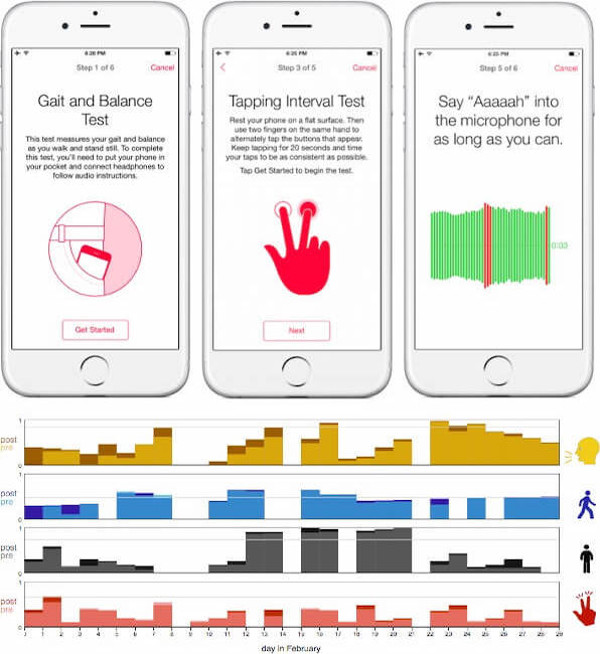 If you collect voice data and want to analyze it, this open source software wraps over different packages for mobile health feature analysis. For voice feature extraction, we currently make most use of the openSMILE package, but have plans to expand the pipeline to include more packages.
Code

mhealthx
---
Prior work
We have experience extracting and analyzing features from different biomedical data, and have recently emphasized voice analysis in our research:
We used mobile sensors, feature extraction, and prediction models to enable a scalable approach for estimating individual variation in depression and Parkinson's disease [1].
We helped to develop the mPower smartphone app on top of Apple's ResearchKit [2], which includes voice analysis in its tracking of cognitive, behavioral, mood, and physiological states in thousands of people with Parkinson's disease [3].
We have used a portable audio recorder to track and quantify progress of children with selective mutism enrolled in a week-long intensive group behavioral treatment program designed by the Child Mind Institute [4].
We are preparing two manuscripts for publication demonstrating the use of voice recordings to differentiate between people with and without selective mutism under different experimental conditions.
Aims
Extend our open source software pipeline to analyze voice and speech data.
Apply our analysis methods to predict neuropsychiatric diagnoses and symptom severity in the world's largest open, transdiagnostic, multimodal, pediatric study population (target N=10,000).
Extend our prediction algorithms to include multimodal data (e.g., behavioral and physiological measures, brain imaging, eye tracking data) for richer digital phenotyping.
Create a linked database to relate voice biomarkers with diagnostic information.
Significance
Extraction and analysis of high-dimensional feature sets to characterize vocal production, speech patterns, and speech content is a promising direction for biomarker identification. Features characterizing vocal production are independent of speech content itself, and can provide objective measures of motor difficulties as well as objective means of assessing psychiatrically relevant states, such as mood and anxiety. Features related to speech patterns and content provide additional opportunities to characterize more complex emotional and cognitive states, as well as issues related to processing information and expressing thoughts. We will apply our analyses to voice data from thousands of children who have participated in a thorough battery of clinical assessments. By making these data, software, and results openly available, we will establish new normative standards for voice-based diagnosis, prediction of risk, and monitoring of symptom severity for a broad range of neuropsychiatric conditions. By relating these voice-derived features to ancillary data from brain imaging and other modalities, we will provide a richer context for the contribution of voice data to diagnosis and prediction.
Research plan
As part of the Healthy Brain Network project, we are collecting structural and functional MR brain images, EEG, eye tracking data, and hours of interviews and mental health assessments from 10,000 children and adolescents (current n=1,200). We have recently added voice recording and will soon include actigraphy and physiological measures: Voice_recording: We collect audio recordings during all tests and interviews with a portable Sony ICD-UX 533 digital voice recorder. After participants watch a 4-minute emotional animated film called "The Present" in the MRI scanner, they narrate the story in their own words and answer a series of perspective-taking questions related to the film. During this narration and question answering session we collect high-definition video and high-fidelity audio recordings with a Røde NT1 cardioid condenser microphone. Actigraphy: Each participant will wear a wrist-worn ActiGraph wGT3X-BT to monitor movement throughout the day and night for up to one month. Physiological data: We are currently evaluating other wearable devices that help to infer internal state, such as electrodermal activity (stress) and photoplethysmography (heart rate) with Empatica devices. We will soon have participants wear the device while undertaking all assessments and interviews.
References
[1] Ghosh, SS, Ciccarelli, G, Quatieri, TF, Klein, A. (2016). Speaking one's mind: Vocal biomarkers of depression and Parkinson disease. The Journal of the Acoustical Society of America, 139(4):2193. doi:10.1121/1.4950530
[2] Bot, B.M., Suver, C., Neto, E.C., Kellen, M., Klein, A., Bare, C., Trister, A.D. (2016). The mPower Study, Parkinson disease mobile data collected using ResearchKit. Scientific Data, 3(March):160011. doi:10.1038/sdata.2016.11
[3] Chaibub Neto, E., Bot, B. M., Perumal, T., Omberg, L., Guinney, J., Kellen, M., Trister, A. D. (2016). Personalized hypothesis tests for detecting medication response in Parkinson disease patients using iPhone sensor data. Proceedings of the Pacific Symposium on Biocomputing:273–284. doi:10.1142/9789814749411_0026
[4] Busman, R, Xu, HY, Jozanovic, RK, et al. (2016). Evaluating the efficacy of a targeted behavioral treatment for selective mutism using vocal recording. SMA-UCLA Annual Conference.